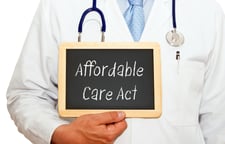 The Affordable Care Act has the potential to affect all businesses. Failure to comply with the ACA can result in substantial penalties.
Reimbursement Provision Applicable to All Businesses
A major ACA provision affecting multiple employee businesses is that you may no longer reimburse employees for health insurance premiums on their individual policies. Special rules apply to > 2% shareholders, partners and single employee plans.
2015 Provisions Based on Employer "Status"
Determination of whether your business is subject to the primary ACA requirements for 2015 is based on the number of full-time employees and full-time equivalent employees your company and other companies with common ownership have collectively in calendar year 2014.
49 or Less: Not subject to reporting and insurance affordability provisions of ACA.
50 to 99: Subject to reporting provisions of ACA. Read more ...
100 or more: Subject to both reporting and insurance affordability provisions of ACA.
We strongly encourage you to read the following articles that discuss in further detail some ACA requirements and penalties that may affect your business in 2015 and 2016.
Machen McChesney Can Help With These Services
We can:
Calculate and document determination of employer "status".
Prepare and submit forms to employees and IRS (FORMS 1095/1094-C), similar to W-2 process.
Provide consulting services to help you sort through the various ACA provisions.
We would be pleased to discuss issues related to the ACA with you. If you anticipate needing our assistance to comply with 2015 reporting requirements, we request that you engage us in the process during November to allow sufficient time to gather and input the necessary data. For more information on this topic or any of our business advisory services, please contact Jessica Pagan or Murry Guy at (334) 887-7022.